Konstantin Alekseev
Konstantin was born February 19, 1989 in Moscow. He returned music from 5 years.
1997 - enrolled in the Music School at Moscow Tchaikovsky Conservatory MCA. Tchaikovsky in the class teacher T. Direktorenko.
As a student, became a laureate of several competitions: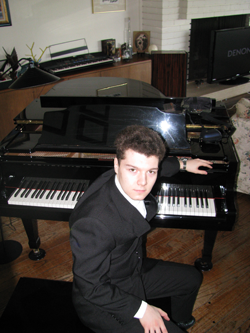 2000 - I prize at the International Competition of Classical Music "Musicalia", Athens
2001 - II prize at the Open international contest of pianists and piano ensembles "Teacher and pupil memory Rachmaninov, Moscow
2001 - Winner of the first Moscow Open Youth Piano Competition. N. Rubinstein, Moscow
2002 - Special prize International Piano Competition V. Krainov, Kharkiv
2002 - Winner in 2 categories (solo and concerto), and winner of special prize V open competition Musicians Youth Assembly Arts, Moscow
2003 - V Award at the International Competition for Young Pianists firm "Seiler", Kitzingen (Germany)
In 2001 as a soloist, participated in concerts of the Moscow State Symphony Orchestra conducted by Dmitry Orlov, including in the Great Hall of CIM
2003 - graduated with honors from MCA Music School at Moscow Tchaikovsky Conservatory. Tchaikovsky and enrolled in MGUMI of Chopin in the class of People's Artist of Russia Professor AA Nasedkina (assistants - Honored Artist of Russia P. Fedotov, laureate of international competitions D. Teterin, D. Chefanov)
2004 - Prize Winner of the Moscow International Competition for young pianists. Chopin
2005 - toured with concerts in Warsaw and Krakow
2005 - Winner of the Festival of Romantic Music for Young Pianists in Moscow it. Chopin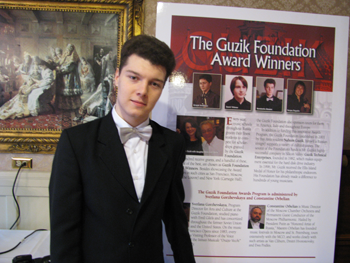 2006 - The winner and the winner of special prize-(a recital in the Rachmaninov Hall in 2007) Festival of Romantic Music for Young Pianists in Moscow it. Chopin
2006 - graduated with honors MGUMI them. Chopin and entered the Moscow Tchaikovsky Conservatory Tchaikovsky in the class of Professor A. Nasedkina
February 2007 - played (solo and chamber ensemble), with concerts in Japan, where just kept teaching deyatelnot.
January-March 2008 - appeared on tours in Italy (San Remo, Cosenza) and USA (San Francisco, San Jose, Miami)
June-July 2008 - Participated in The International Festival and Institute at Round Top (Texas) and the International Keyboard Institute - Festival (Mannes College, New York).
Served in the Ukraine, Poland, Germany, Greece, Italy, Japan, USA and UK.
K. Alekseev has spoken in different halls:
Large, Small and Rachmaninov Halls of CIM
Chamber Hall MMDM
Hall of Moscow Kremlin Armory
Hall of the Polish Embassy, the Ukrainian Cultural Center
Palace of legion of honour (San Francisco)
Teatro di casino (San Remo)
OAI hall (Shizuoka, Japan)
Festival Concert hall at Round Top (Texas) and others.
The pianist played with bands such as:
Moscow Symphony Orchestra for Children and Young People p / u D. Orlov
"Virtuosos of Lviv" p / u S. Burke
Symphony MGUMI them. Chopin p / u V. Ryzhaeva
State Chamber Symphony Orchestra of Russia p / u M. Mandorano (USA)
State Quartet. Glinka.
Constantine - party master classes of professors:
V. Krainov
Nasedkin
Petrova
S. Dorensky
M. Mdivani (Canada)
E. Andzhaparidze
D. Rakhmanov
E. Zilberkanta
H. Ogawa (Japan) and others.
Fellow and member of the live stock of the International Charitable Fund of Vladimir Spivakov and Fellow of the Fund of the Ministry of Culture, as well as a member of the International Charitable Fund of Vladimir Krainov.
In 2007 he became Fellow of the International Fund for Cultural Exchange K.Orbelyana-N.Guzika, as well as the International Fund for D. Dick (USA).
Diploma-federal target program "Gifted children" presidential program "Children of Russia" in 2001