Dinara Clinton
Dinara Clinton - an incredibly gifted young pianist. Her manner of playing is expressed, on the one hand, fantastic virtuosity, energy performance, on the other - brilliant musicianship, deep penetration into Dinara Clinton - an incredibly gifted young pianist. Her manner of playing is expressed, on the one hand, fantastic virtuosity, energy performance, on the other - brilliant musicianship, deep penetration into songwriting ideas, a great artistic potential, scenic experience.
(EI Kuznetsova, dean of the piano faculty of Moscow Tchaikovsky Conservatory. Tchaikovsky)
Born July 6, 1989 in Kharkov. Beginning to play music from five years.
2001 - entered the Central Music School at the Moscow Conservatory in the class of associate professor and head of piano department of Central Music School, Honored Artist of Russia Vladimir V. Piasecki.
Currently Dinara - 3 rd year student of the Moscow State Conservatory. Tchaikovsky, the class of the People's Artist of Russia, Professor EK Virsaladze.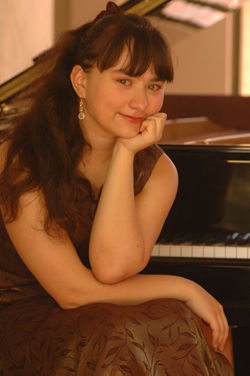 1996 - participant of the International Festival "Visiting Aivazovsky (Feodosia)
1997 - winner of the International Competition "Young Virtuoso" in Czech Republic
1997 - Laureate of International Competition V. Krainov (I prize in the younger age category).
Constant participant of the festival "New names of the young stars of Ukraine", "New Names of the Crimea", "Rachmaninoff and Ukrainian culture," "Music - our common home". Performed in the Great Hall of the Moscow Conservatory.
Since 1999 - participant of festivals in Malaysia, Germany, the tour "You, Ukraine, as well as the concert in honor of the inauguration of President of Ukraine Leonid Kuchma.
During training in Moscow, Dinara has won many international competitions, such as:
Art. Seiler in Germany (I prize),
Youth Competition them. Tchaikovsky (Japan, II prize),
Grand Prix in the older age category VIII International Competition V. Krainov (Kharkov, 2006)
Uchastnitsa famous international festivals:
Rheinigau Musikfestival (Germany),
Festival. Chopin (Poland)
La Rogue d'Antheron (France).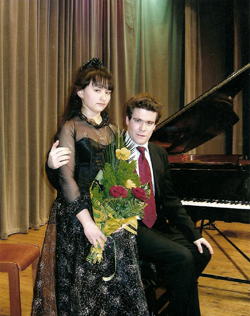 She has performed in solo programs and symphony orchestras, including Musica Viva under Exercise. A. Rudin and the Moscow Virtuosi under the direction of S. Sondeckis, Vladimir Spivakov, in many cities in Russia (including the Great Hall of the Moscow Conservatory Concert Hall. Tchaikovsky), Ukraine, Spain, Israel, Germany, Switzerland , Japan, USA, Denmark.
In 2004, represented the channel "Culture" at the Eurovision Song Contest in Switzerland and won the III prize.
In November 2006, became the owner of Dinara Diploma of Outstanding Merit (for outstanding performing skills) at the most prestigious piano competition in Hamamatsu (Japan).
In 2007 she was awarded II prize at the world-famous piano contest them. Busoni in Bolzano, Italy.
October 2009 - Laureate of International Competition (2nd prize) at the Fourth International Piano Competition in Tbilisi, as well as a special prize for the best performance of Chopin and a special prize for the best performance of the Georgian composer.