Tatyana Kolesova
Born 29.03.1985 in Moscow.
Post-graduate student of Moscow State Conservatory named after Tchaikovsky.
Class prof. AA Nasedkina (piano), Professor TA Alikhanova (chamber ensemble).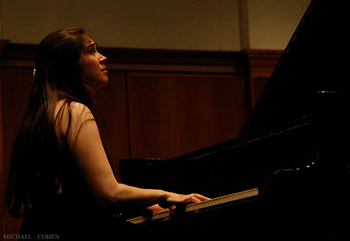 Laureate of international competitions:
Leeds (England)

Piano-e-competition (Minneapolis, USA),

UNISA (Pretoria, South Africa),

Grieg Concours (Oslo, Norway),

Arthur Rubinstein (Tel - Aviv, Israel),

Sydney Piano Competition (Australia)

Geza Anda (Zurich, Switzerland), etc.
As part of a trio «Con Spirito» 1 prize winner of the Open Competition of Chamber Ensembles them. N. Rubinstein (Moscow), the international competition «Vibrarte» (Paris).
Won the president of Russia in 1997.
Recipient of a fellowship of the Order of the Legion of Honor (Legion d'Honneur) of France.
In 2002, performed a solo program at the celebrations to mark the 200 anniversary of the Order in Geneva.
Released the CD "Russian Virtuosity Music" with recordings of music Taneyev, Tchaikovsky, Rachmaninoff and Prokofiev.
She has performed concerts in Russia, Italy, Spain, Poland, Great Britain, Switzerland, France, Germany, Israel, Norway, Morocco, Australia, Switzerland.
She participated in festivals in North Aldeburgh (UK), Encuentro de Musica (Santander, Spain), Chopin Festival in Duzhnikov Zdroj (Poland), December Nights (Moscow), "Young Talents of Russia" (Kazan, Almetyevsk, Kursk, Kemerovo, Samara , Lipetsk, and others), "Grieg festival" (Oslo and Hanover), to the 100-th anniversary of Nathan Rakhlina (Kazan), "Eilat Piano Festivities" (Eilat, Israel), "Young talents of Europe" (Paris), Ars Longa (Moscow), Pavel Kogan Festival (Sochi), «Klassik und Jazz» (Engelberg, Switzerland) and others.
Has a record on radio and television in Russia, Poland, France, Germany, Italy, Great Britain, Switzerland, Israel and Australia.
She has performed with symphonic orchestras:
Kharkov, Yaroslavl and Kazan Philharmonic

Birmingham City Orchestra under Sir Simon Rattla,

Winnipeg Symphony Orchestra

Minnesota Symphony Orchestra,

Israeli Camerata,

with the orchestra "Camerata Russia"

Chamber Orchestra of South Africa,

Russia's national orchestra,

Moscow Symphony Orchestra / Pavel Kogan

JI-AP p / u M. Gorenstein, A. Slutsky,

Israel Philharmonic Orchestra n / a M. Rodan,

Orchestre National d'Ile de France,

Philharmonic Orchestra of Morocco,

Sydney Symphony,

Zurich Chamber Orchestra,

Tonhalle-Orchester, etc.