Gayk Kazazyan
Gayk Kazazyan was born in 1982 in Yerevan.
1989 - enrolled in music school in Yerevan. Sayat-Nova in the class of Professor Levon Zorian.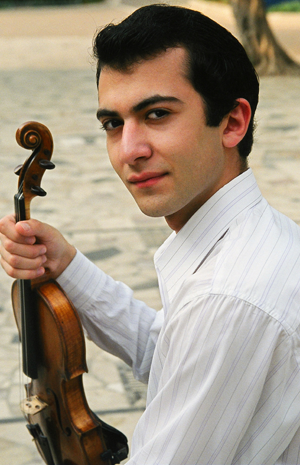 1993-95 - won several national contests. Also won the 'Grand Prix' in the 'Amadeus 95' and was invited to Belgium and France with solo concerts.
1996 - moved to Moscow.
1996 to 2000 - Learning from the professor, People's Artist of USSR ED Rook school them. Gnesinyh
2000 through 2006 - Studied at the Moscow Conservatory
2006 - 2008 - Studying with Professor I. Rashkovskii at the Royal College of Music in London
Also took master classes with such outstanding musicians as Ida Haendel, Shlomo Mintz, Boris Kushnir, Pamela Frank.
1997 to 2007 - The winner and the winner of many international competitions, including:
2002 - Competition. Tchaikovsky in Moscow
2001 - Competition. Wieniawski in Poznan
2005 - them. Jacques Thibaud and Marguerite Long in Paris
2004 - Awarded the gold medal and the audience award at the Violin Competition in Switzerland
2007 - Gold Medal and Audience Prize at the Violin Competition in Tongenge (South Korea)
In the period of study 2002-2003 - Appointed by the President of Russia scholarship.
2003-2004 - Scholarship of the Government of Russia.
Since 2002 he is soloist of the Moscow State Academic Philharmonic.
Since 2008 Haik teaches at the Moscow State Conservatory.
Soloist of the Moscow State Academic Philharmonic, the winner of international competitions Haik Kazazyan - one of the most promising young musicians of his generation. With constant success stands in Russia and abroad. Violinist constantly receives invitations to speak in many countries with well-known orchestras and musicians, such as:

Royal Scottish Orchestra,

Russia's national orchestra,

Prague Philharmonic Orchestra,

Irish National Orchestra,

National Orchestra of France,

Munich Chamber Orchestra,

Chamber Orchestra of Russia,

Chamber Orchestra "Muscovy" running E. Grach,

State Academic Symphony Orchestra of Russia. EF Svetlanov

State Symphony Orchestra conducted by P. Kogan

Symphony Orchestra under Valery Zivy.
Haik works as a soloist and ensemblist with famous musicians of our time, including the conductors:

Vladimir Ashkenazy

Alexander Lazarev

Constantine Orbelian,

Pavel Kogan

Alexander Polyanichko,

Alan Buribaev,

Andrew Litton,

Alexander Librium,

Vladimir Ziva,

Jacques van Steen and many others.
Violinist appears in many famous venues around the world, such as:

"Carnegie Hall (Great Hall of them. Stern)" in New York

Large, Small and Rachmaninov Halls of Moscow Conservatory

Concert hall named. Tchaikovsky

Chamber Hall MMDM, concert hall "Russia"

Victoria Hall in Geneva

Barbican Hall and Wigmore Hall in London

Theater Chatelet "and Hall" Gaveau "in Paris

Usher Hall in Edinburgh

Royal Concert Hall in Glasgow

Grand Philharmonic Hall in St. Petersburg
He also played in the St. George's Hall in the Kremlin before the presidents BN Yeltsin and Jacques Chirac (1997).
Haik is a participant in many music festivals including the International Music Festival in Sion (Switzerland), the Verbier Festival (Switzerland), Yuri Temirkanov Festival "Arts Square" in St. Petersburg, Nikolai Petrov Festival "Musical Kremlin" in Moscow, the International Music Festival Tongenge (South Korea).
Concerts violinist broadcast on TV Culture, Mezzo, the Brussels-TV, also on BBC Radio in London radio station 'Orfeo' in Moscow.