Anna Trushkova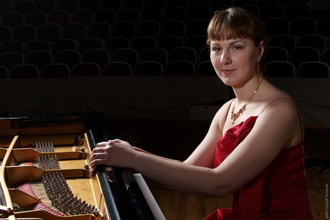 Born in Nizhny Novgorod in 1986.
In 2005 she graduated from the Academic School of Music at the Moscow Conservatoire. Tchaikovsky in the class of People's Artist of Russia Professor YS Slesarava.
In 2004 - the winner of the International Piano Competition "Classical Heritage» (III Prize).
2003 and 2005 - Winner of the Moscow Chamber Music Competition "Days of Beethoven in Moscow» (II prize).
2008 - winner of the III International Piano Competition, named Balakirev in Krasnodar.
In 2004-2005. scholarship fund "Russian Performing Art".
During the years of education played a number of solo concerts, has repeatedly advocated in the Large, Small and Rachmaninov Hall of the Conservatory Orchestra under A. Levin, and in 2006 played a series of concerts with the orchestra conducted by DM Orlov.